Today, new information is out on the new GM Duramax turbo diesel engine. As previously mentioned, we first heard about this engine in an issue of Diesel Tech Magazine, January 2008, which I touched upon briefly in a previous post.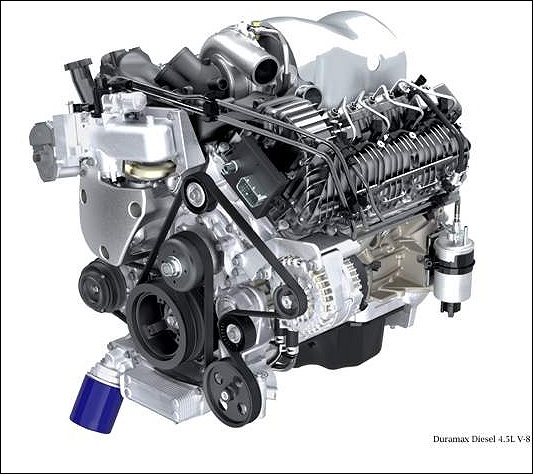 Courtesy: www.thedieselpage.com
Since the small displacement V8 will fit in the same space as the gasoline powered V8, it will be used in GM 1/2 ton trucks. Interestingly, the author also mentions the hope that they will begin offering the engine as an option in some of their passenger cars. This seems very plausible from what we've read and certainly what we
saw
at the New York International Auto Show - all the major manufacturers are beginning (or have already begun) to offer many of their passenger cars with diesel power plants as optional equipment. Most of which are of the V6 variety, so if this V8 with its massive amount of torque (520 ftlb) and horsepower (310) is offered in the market of V6 cars, it could change the game a great deal.
This announcement comes amidst the announcement from President Bush
today
on
Good Morning America
that he's troubled by rising gas prices and plans to review some proposals to relieve the crisis while warning that there isn't a quick fix.
Again, as we've seen recently, the shift to diesel can alleviate some of this pressure, although it may not be the best long term solution, so we will press on with the search for diesel power as well as a long term solution in the form of alternative power plants such as the Scuderi Engine, which I've also blogged about
recently
.